Last updated on May 26th, 2021
In a country like India where clean and pure water is scarce, a good quality RO like Kent RO Grand Plus has become a necessity rather than an accessory. We require clean drinking water to live our life healthily.
Because unclean and unsafe water can lead to a plethora of water-borne diseases which can affect our whole life as well as our bank account.
In this regard, we are going to review the best selling water purifier in India; Kent Grand Plus:
Also, check out:
Top 10 Best RO in India: Water Purifier for Your Home
Key Highlights
9-litre large storage tank,
UV disinfection,
Kent's ROTM technology,
Multiple purification process
About the Brand
You might still be living in the stone age if you reside in India and still haven't heard of Kent. It is one of the largest and most trusted RO purifier company in India with decades of experience.
You can find their products very common in homes and stores all over India. Their service network is also PAN India and is generally quick enough to solve its customer's problems.
Tank Capacity
Drinking water is used for several purposes in our households like for drinking, for cooking, for cleaning our fruits and vegetables. So, a large storage tank is essential so that you never run out of water.
Thankfully, Kent Grand Plus RO comes with a large 9-litre storage tank with an easy to use large tap for a greater flow of water. The tap is made from high-quality material as is the rest of the body.
Purification Capacity Per Hour
Having a large storage tank will not prove beneficial if the water purification rate is low.
Thankfully, Kent Grand Plus RO has a purification rate of 20L/h which means it can fill up the storage tank from empty to full in less than half an hour.
Multi-Stage Purification Process
Being a top of the line model, Grand Plus comes with all the advanced technologies in the water purifier arena such as:
Reverse Osmosis (RO),
Ultraviolet (UV) treatment,
Ultrafiltration (UF),
the concentration of dissolved particles (TDS) control.
When the water enters into the purifier, it goes through all these purification processes and thus it is commonly called the Multi-stage purification process. 
Technologies
In reverse osmosis (RO), water is got to pass through a partially permeable membrane to separate larger particles, ions, and unwanted molecules from water.
Next, comes the UV treatment which kills any bacteria or other germs present in the water.
After that, in UF water is made to pass through a very fine membrane which filters out even the smallest of particles and only let water pass through.
In TDS control, unwanted particles are further removed and only essential minerals are left in the water using the ROTM technology of Kent.
Impurities Removed
With multi-stage filtration, Kent grand plus RO can filter out all unwanted impurities like:
dissolved impurities like rust,
arsenic,
pesticides and fluorides,
suspended particles,
disease-causing germs like bacteria, viruses
and convert your hard water into pure sweet drinking soft water with all of the minerals intact to revitalize your body.
Kent RO Grand Plus Price
They say quality doesn't come cheap but in today's world, it sure can come affordable. Kent Grand Plus RO cost only Rs.15400/-.
For this price, you are getting all the best available technologies in the water purifying business that you can ask for with decades of experience and trust in Kent.
Check out Kent Grand+ & Kent Grand+ ZWW:
Certification and Warranty
Kent RO Grand Plus has been awarded and certified by almost every leading name and authority.
On top of that, you also get 1 year + 3 years extended service inclusive of the price which means you don't have to worry about its functioning for 4 full years.
Other Useful Features
RO is an appliance which is used throughout the day by not only adults and but by children's also. So it should be user friendly for all age groups.
Also, it should be made of high-quality materials to last long. Thankfully, that is what Kent RO does.
Its wall-mounted design lets you hang it at the appropriate place so it doesn't come in anyone's way.
Its easily readable water level indicator lets you know when the water level is getting low so you never run out of water.
Kent's ROTM technology retains essential minerals in the water which are essential to the body.
It also even has an extra UV LED light fitted in the storage tank which ensures your water remains pure even for longer durations.
Its different technologies help to clean water of up to 2000 TDS. It is very high meaning you can purify water from nearly all sources without any added worry.
Free Installation
During the transit of the product, sometimes the product gets damaged but you don't have to worry about it because a technician from Kent comes to your home for free installation of your RO.
So, if you receive a package that looks crushed or broken from outside, then wait for the Kent technician to come and open it by himself.
Cons
One thing to note is that its replacement parts also have a high price because they deliver such sophisticated processes.
So, if that is not your budget, then you may want to look for a cheaper option.
Check out Kent Grand+
Kent RO Grand Plus UV Lamp
The life of the Grand+ UV lamp is 5000 hrs. You would need to change it approximately every 6 months.
A good UV lamp from a good brand like Philips is available at Rs. around 200-300 in the market. So it's quite affordable.
Check out the Kent RO Grand Plus UV Lamp price here:
Kent RO Grand Plus Filter Kit
To maintain the quality of your drinking water, you need to replace filters at times. In Kent Grand Plus, you don't need to worry about filter replacement.
Because it comes with a filter change alarm that warns you to change filters.
You can check the filter kit and price here:
Let's compare the Kent RO Grand Plus to some of its competitors
1. Kent Grand Plus vs Kent New Grand
Kent New Grand is the lighter version of Grand Plus so it comes with a few minor drawbacks.
First of all, its storage capacity is only 8 litres, 1 litre less than the Grand Plus.
Next, it has only mineral RO technology and not the ROTM which we get in Grand Plus.
Nowadays, kitchens are becoming more modern and stylish. Grand Plus offers a more upmarket look than the new grand which still has a traditional RO look.
The price of New Grand is Rs. 14949/- and for just Rs. 500/– you can get the more modern and updated grand plus RO and we recommend that one only.
Also read:
Best Water Purifiers in India for Home
2. Kent Grand Plus vs Kent Pearl
Wondering which water purifier is better: Kent Pearl RO or Grand Plus?
I personally use Kent Pearl. Kent Pearl is a good RO purifier with some excellent features like a zero water wastage system which recirculates the rejected water to use again.
It also has a detachable transparent tank for ease of cleaning.
Kent Pearl has an 8 litres storage tank, 1 litre less than the Grand Plus.
As for the water wastage, you can always collect the rejected water in a tank which can be used for gardening or washing your car or dishes.
They both are good purifiers and offer different design features while assuring clean drinking water to you. Kent Pearl is slightly expensive at Rs. 16040/-.
3. Kent Grand Plus vs Kent Super Plus
Kent Super Plus range sits one place below the grand range so you can expect some fewer features in it.
For starters, it offers only an 8-litre storage tank, 1 litre less than the Grand Plus.
It still rocks the plain old look of RO purifiers which may seem outdated in your modern kitchens while Grand Plus looks more upmarket and refreshed.
Another major drawback is the water purification rate of only 15 litres/hr as opposed to 20 litres/hr of Grand Plus.
Kent Super Plus is available for Rs. 12500/-.
4. Kent Grand Plus vs Supreme Plus
Both water purifiers are top ranging purifiers with very few differences, nonetheless, they both are very good purifiers.
Supreme Plus offers zero wastage water mechanism, auto on-off, 8-litre water tank whereas Grand Plus offers ROTM technology, a 9-litre water tank.
Other features like RO, UV, UF and TDS control are available in both.
It is up to you to choose as both are capable and both are in the same price range.
5. Kent Grand Plus vs Kent Grand Star
Kent Grand star is the upper model of Grand Plus.
It has a smart digital display that shows info about filter life, RO flow rate, and purified water quality among others.
Its smart mechanism minimizes the amount of rejected water and enhances its efficiency.
The multi-stage filtration system is the same in both the purifiers but the amount of features is certainly higher in Grand Star and so is its price.
Kent Grand Star is available for Rs.17100/-.
6. Kent Grand Plus vs Kent Ace Mineral
Kent Ace is an outdated model because in its price range you can get RO purifiers with better features.
For example, it only has a 7-litre tank whereas grand plus has a 9-litre storage tank.
Its design is also opaque and not transparent like the trend nowadays.
Also, experts recommend Grand Plus more for its less hassle operation abilities.
It is available for Rs. 17800/-
7. Pureit Ultima vs Kent Grand Plus
Pureit Ultima is a good looking purifier with an opaque black body with a digital display for information.
The multi-stage filtration system is more or less the same in both purifiers. The only difference being the name of the technologies.
Pureit Ultima has a 10-litre storage tank and a soft touch button for dispensing water.
It is a sophisticated machine with computer-operated functions while Grand Plus is manually operated and offer more durability in terms of usage.
In a traditional Indian household, we fear it will not be able to cope up with the pressure of usage. And that's where Grand Plus scores extra points because of its more traditional design.
Thus the design of Grand Plus makes it more user friendly to the majority of our population.
Also, Pureit ultima is a bit expensive at Rs. 16599/-.
8. Aqua Guard Geneus vs Kent Grand Plus
Aqua guard Geneus is an expensive water purifier if we compare it with the Grand Plus.
It is a fully automatic purifier with sensors and a digital display that does all the work for you.
Apart from its copper infusion technology, there is nothing significant which you can't get from grand plus purifier in terms of water purity and taste.
It has a 6-litre storage tank which is 3 litres less than the one in Grand Plus.
Also, it offers only 1 year of warranty, unlike Grand Plus which offers 1 + 3 years of warranty.
Aqua guard Geneus is a good water purifier but if you compare the water quality then they both fall in the same league.
It's your call if you want to spend Rs. 22490/- just for extra digital display and auto on-off or go for a much affordable Grand Plus with the same purity level.
9. Kent Grand Plus vs Aquaguard Aura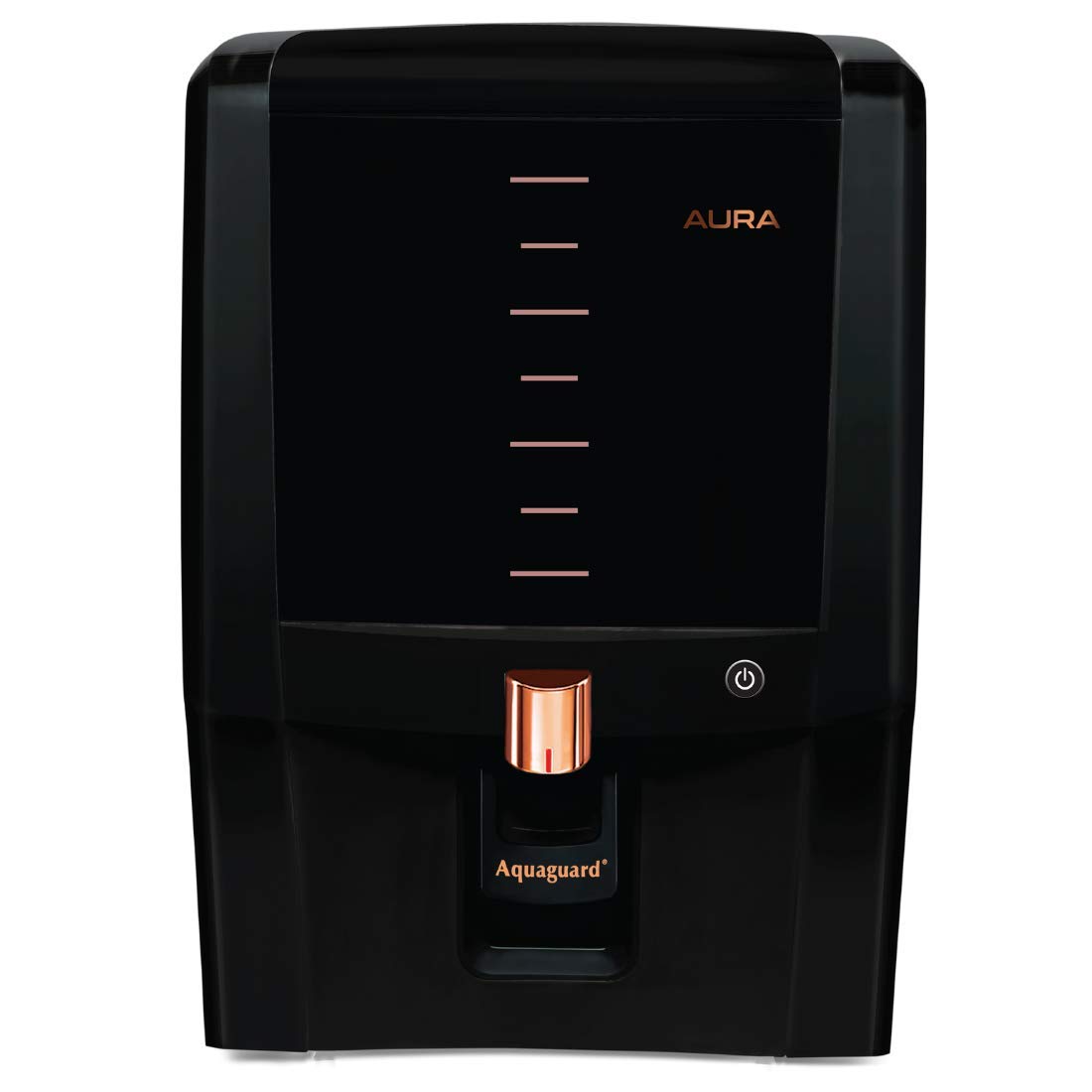 Aqua-Guard Aura is a smart-looking water purifier with all the functionalities you would found in Grand Plus in terms of making your water pure.
But it has only a 7-litre storage tank which is 2 litres less than the Grand Plus.
It also offers only 1 year of warranty as opposed to 4 years warranty of Grand Plus.
Also, because of its metal cabinet, it is quite heavy and generates a lot of noise while filling up the water.
It is available for Rs.16499/-.
10. Aqua Guard Marvel vs Kent Grand Plus
Aquaguard Marvel is a lot like a Grand Plus in its operation as it doesn't have any digital display or auto on-off.
It offers a multi filtration system in the same league as Grand Plus.
However, it has only 8 litres of storage tank, 1 litre less than the Grand Plus.
The main issue with the Aqua-Guard is its installation service and after service.
We have heard of many incidents of hidden charges, extra charges for components charged by aqua guard technicians.
Other than that, it is a good water purifier for Rs. 13999/-.
Take away Message
RO has become an indispensable machine in our households because of the quality of water available in the country. For better health, we have to use RO filtered water.
But just buying an RO water purifier doesn't mean that your job is done!!
From its installation to its periodic services to its spare parts, we believe Kent offers the most peaceful and quality experience. And in the Kent range, we believe that Grand Plus is the ultimate all-rounder that checks all the boxes for being a good quality water purifier.
It focuses more on the purity of water, ease of usage, and durability of the product rather than on unnecessary features.
Also read,
A handful of articles to make your life healthier:
Are you looking for the best oximeter in India in this pandemic to keep a check on your blood oxygen levels? The oximeter that is also trusted by doctors? Read here my personal experience & review about Dr Trust Oximeter:
Disclaimer:
Honest Disclaimer: I am a fitness freak. I often research fitness gadgets and gears and keep an eye on the best available health & fitness items in India. Some of the links in this article are obtained in partnership with Amazon Services LLC Associates Program, an affiliate advertising program designed to provide a means for sites to earn advertising fees by advertising and linking to Amazon.in. I may earn a small referral income if you purchase a water purifier using these links (at no extra cost to you). My purpose is to provide you with genuine information in one place so you can make the best buying decision while saving your valuable time.