Last updated on December 10th, 2022
A bowl of salad is the first thing that comes to anyone's mind when trying to eat healthily and get into shape. Us Indians are not used to the concept of a salad diet & salad eating as a whole.
But, with the change of time of lifestyle, people are including salad in their daily diets which is a good thing. As salads are super-healthy, and nutritious and come under the healthy concept of raw eating.
It also is an integral part of the Paleo diet and the plant-based diet. You can easily switch it with any of your meals, from lunch to a lighter and more digestive dinner.
This article is your 'beginner's guide', to how to eat your salad for the maximum benefit. So, if you are someone who is trying to eat healthily and make a salad a part of it, then stay tuned.
How is Salad Diet Healthy for us?
Did you have your salad today? If not, then plan your next meal around a bowl of salad. It is delicious food with lots of colours and flavours in it.
You can mix all your favourite vegetables or fruits all together for a pop of original favours on your taste buds. The crunch of raw vegetables and fruits. You can easily get salads in a lot of restaurants which you can use for a healthier switch while eating out.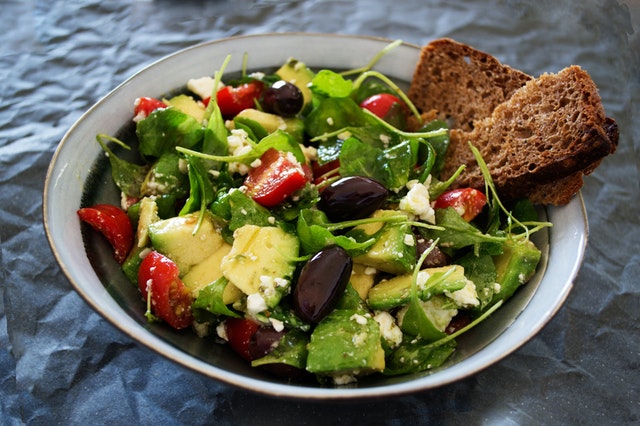 While making it at home, you can experiment with different vegetables that are seasonally available in your region. It is quick and convenient and your system will love having it due to its amazing benefits.
Benefits of Salad Eating
1. Salad diet has Extra Fiber
Your vegetables are full of nutrition and fibre. When consumed raw, you get undisturbed roughage from the raw ingredients of the salad.
It helps in your digestion and smooth metabolism. It makes you full for a longer time. Thus, helping in weight loss.
2. All the Vitamin and Minerals in one bowl
We all understand the importance of vitamins and minerals in our diet and also, and we know that fruits and vegetables are enormous sources of vitamins and minerals (ref).
When we cook them, as per our Indian recipes. It's better if you could eat them in raw form. It's more nutritious and diet-friendly.
3. Salad Diet Helps to Lose Weight
Salad has always been associated with weight loss and diet which is true. Eating salad doesn't mean that you have to cut your regular homemade food and go completely go on a salad diet.
Eat salad as a nutritious and light meal. It can be a good alternative for your main meal, lunch or dinner. It keeps you full for longer and helps in maintaining a healthy weight.
You might be interested in:
4. Helps Fight Many Diseases
The nutritional value of fruits and vegetables is not lesser-known to us. But did you know that eating even a little amount of salad a day can help you fight heart diseases, reduce the risk of eye and digestive problems, and stroke and also may lower the risk of cancer?
Make it a habit to eat a bowlful every day to cut the risk!
5. Salad Diet is Quick and Easy
The only problem with following a diet plan is that preparing a diet-friendly meal becomes a bit difficult with all the work pressure and house management.
Salads are easy options in such scenarios. You can easily wash, chop and sauté the vegetables of your choice. Add some seasoning on the top and enjoy your healthy and diet-friendly meal.
Types of Salads for a Salad Diet
Salad is a wider term that can contain different kinds of vegetables and fruits and other toppings because of which this raw and usually cold dish can be termed into multiple types.
Salads are eaten worldwide and every country, continent and region has its version of the salad. Here we have tried to cover some of the most commonly known salads that you can find as a healthy option while dining out.
Or maybe you can try to prepare them yourself at home as well!
1. Green Salad
This type of salad mainly consists of all the green elements in it topped with lettuce.
The most commonly used vegetables in a green salad are lettuce, spinach, bell peppers, mushrooms, tomato, celery, onion, olives, avocado, carrots etc.
2. Wedge Salad
A specific kind of salad where lettuce is cut from its head and topped with other ingredients on the top.
3. Rice and Pasta Salad
A simple salad made to mix with rice or pasta along with lesser chopped vegetables and toppings.
4. Bound Salad
Salads made with mixed mayonnaise or eggs are to be placed in a bounded shape with the help of a scoop or a plate.
Examples can be, coleslaw, potato salad, egg salad etc.
5. Fruit Salad
Mixed fruits, like apples, strawberries, berries or any other seasonal fruits like mangoes mixed to create a flavourful and naturally sweet version of fruit salad.
So, now you know what kind of salad you can eat. These are the commonly/traditionally made salads and you always can mend them according to taste preferences and regional availabilities.
In India, salads are also created as per the Indian flavours.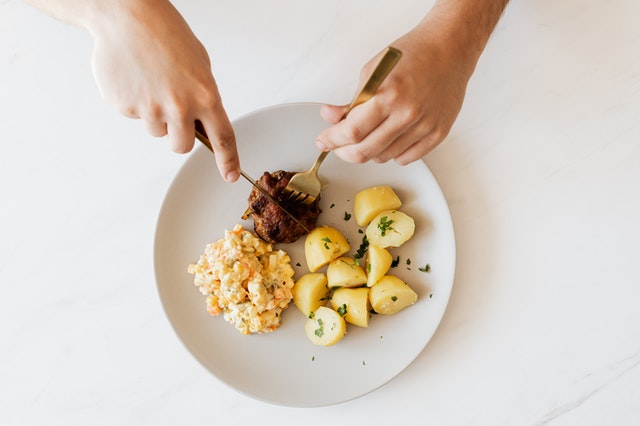 6. Sprout Salad
Sprouts are mixed with Indian spices, chopped chillies and tomatoes and topped with lemon juice, salt and pepper.
7. Dal Salad
Boiled chickpea or chana-dal made to mix with all the other ingredients topped with salt, pepper and lemon juice.
Also read,
Warm Pasta Salad Recipe for Chilly & Rainy Days (Healthy & Tasty) 
A Guide to Salad Serving while on a Salad Diet
Whether you are at a restaurant, ordering a salad or hosting a dinner with a salad on the menu, you must understand the chronology of the salad serving.
What kind of salad should be served when and what exactly is it known as? Salads can be served at any point in the meal in various forms.
1. Appetizer Salad
A small, lighter version of the salad is served at the beginning of the course.
2. Side Salad
A small amount of salad is served to accompany a dish.
3. Main Course
The large-sized salad contains a protein element such as chicken, cheese, paneer, peanuts etc.
4. Dessert Salad
A sweeter version of the salad with gelatine or whipped cream mixed with all the fruits.
How to Make the Best of the Salad Diet
If you are someone who wants to eat salad in your daily life but does not know where to begin from. Then, here is a little guiding tip for you.
This can help you manage your salad diet and make the most of all the nutrients.
1. Choose a Lot of Leafy Greens
There are a lot of varieties of salads available in the market. Not all of them are healthy enough for your diet.
Customise your salad by adding leafy green vegetables to it. Spinach, kale, fresh lettuce, cabbage leaves etc., can be the ideas to pick.
2. Add More Colours for A Healthier Salad Diet
After all the greens, go for some multi-coloured vegetables. Carrots, beetroot, bell peppers, corn, tomato, etc. can be used as multi-coloured veggies in your salad.
3. Try Varieties of Salads
As we discussed above, there are a lot of salads available in the market. You have to pick the best ones for your healthy salad diet.
You can try kinds of salads, like, mixed vegetables salad, sprout salad, dal salad, corn salad and so on. It will help in adding all kinds of nutritious foods like protein-filled pulses, and sprouts to your diet.
4. Pick Organic Ingredients
Since you are eating your vegetables raw, you must pick good quality veggies and fruits for your salads.
Go for organic produces. They are free from any kind of pesticides and sprays. Thus, safer to be consumed raw.
5. Add Interesting Toppings to Make Your Salad Diet Tastier
If eating a bald-tasting salad looks difficult to you, you can play with all the ingredients and make it interesting and delicious as per your requirement.
Add some fresh seasoning. like, lemon juice, herbs, fresh coriander, pepper etc. Also, you can add some chia seeds or flax seeds to top it off.
Mix all of your salad with some grilled paneer or chicken as per your preference.
6. Salad Dressings
Salad dressing is not always unhealthy; you can use some delicious toppings to create the best kind of salad that even kids will love to have.
You can use low-fat mayonnaise, eggs, and homemade sauces such as mustard sauce. Oils such as fish oil, olive oil, sesame oil, and chestnut oil provided the necessary grease to your salad.
Also, try adding vinegar, herbs, seasonings, pepper, rock salt, lemon juice etc. to increase the flavour of the plain vegetable salad.
Final Words on Salad Diet
Salads are great options for diet and health-conscious people. You might take some time to get habitual with the taste and texture of salads if you are a first-timer.
But, trust me, you will feel better when you start following a salad diet. It is light, digestive and can do miracles to your waistline and skin.
Also, try fruit salad for a sweet treat in a bowl with a touch of loads of minerals. Try to make your salad at home with the easiest available ingredients or give it a try at an easily available service.
Related Articles: