Last updated on April 13th, 2023
Not everyone can buy a premium Garmin smartwatch or an Apple watch. However, you don't need to at all when smartwatch brands in 2023 are in competition to design quality smartwatches at more affordable prices these days. If you are in search of a mid-range smartwatch under 15000, this article has the best smartwatch models under 15000 in both categories:
the latest picks for 2023 and
older ones that were popular in 2022, 2021 & 2020 and are still popular in the market.
You might find these lists helpful if you're going to buy a smartwatch or you wish to check out more affordable ones:
[Latest] Smartwatch under 15000 in 2023 Reviews List
1. Amazfit GTR 2 (best-overall)
Pros
The round dial and 3D curved display give this watch a more premium look.
The AMOLED screen is quite readable even outside in direct sunlight.
It also has a Personal activity intelligence health score which tracks all of your body data and presents a single value score to you so you can take care of yourself in a more efficient manner if it deviates from it.
Amazfit GTR 2 will also please users who want to have a smartwatch in the traditional analogue fashion.
Cons
At this price point, this is a great watch but some users have reported lag and other software issues in this watch.
We advise you to first locate its service centres and know more about the warranty before purchasing.
Key Features
Amazfit may be a new name in the market but they certainly know how to make good-looking and feature-rich smartwatches.
The watch has a 3D curved 1.39" inch AMOLED HD touchscreen in a round shape which sits nicely in a bezel-less metal encasing.
Its feature list includes
tracker 2 which actively monitors your heart rate 24/7 and notifies you in case of any inconsistency,
SpO2 measurement,
Sleep quality monitoring,
stress monitoring,
3 GB music storage,
Bluetooth phone calls,
12 sports modes and
5 ATM water resistance rating,
Alexa is built into the watch.
It also has 14 days of battery with typical usage.
GTR 2 has got more features than GTR 3 but the latter scores ahead with newer sensors and the new UI.
GTR 2 is also more affordable than GTR 3 if we compare the launching price too. To read a review of GTR 3, go through this list.
What's the Price?
This Steel finish is available at around Rs. 13,499 whereas the black finish will cost you around Rs. 13,000.
2. Garmin Venu SQ (Garmin Smartwach around 15000)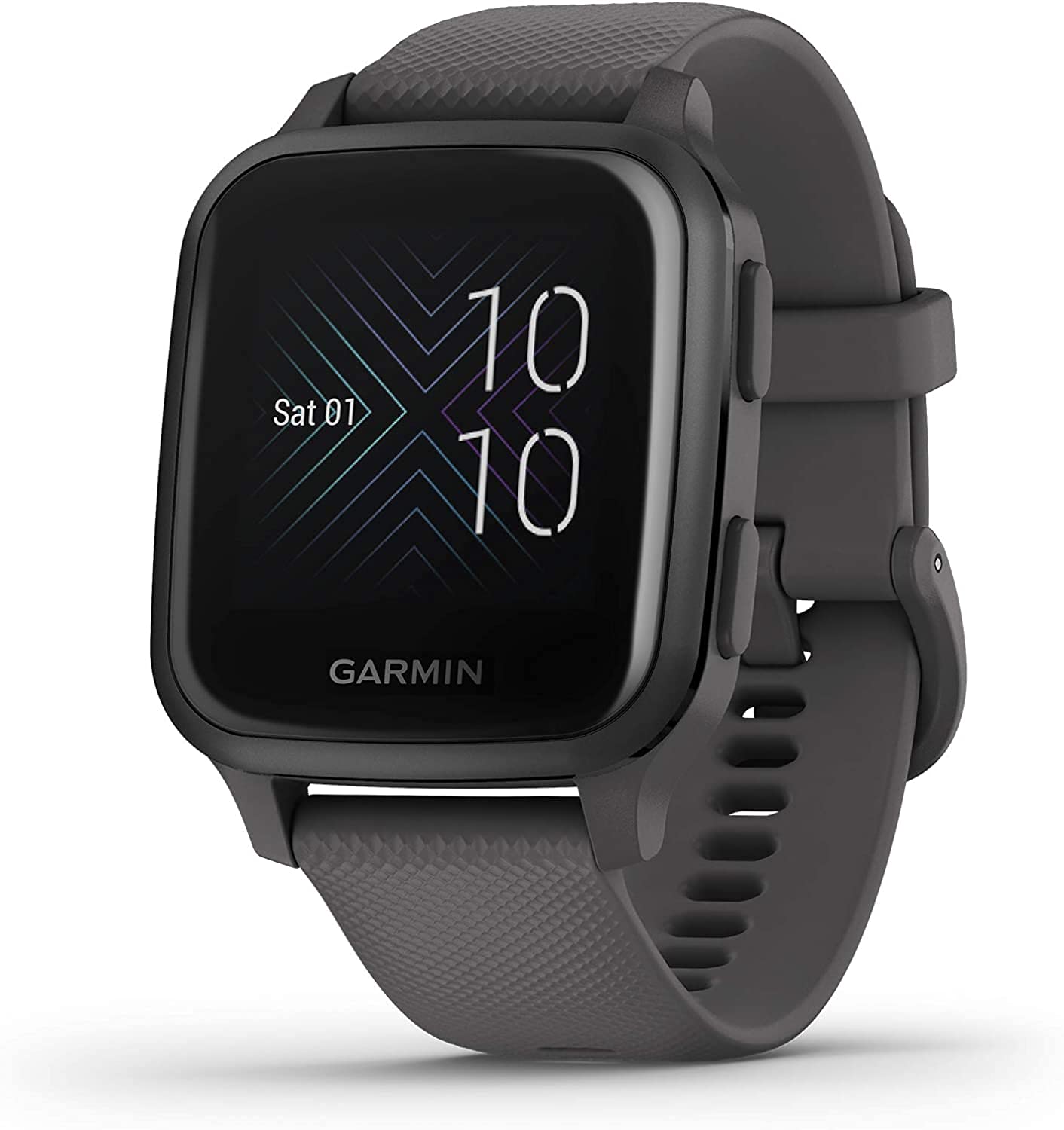 Pros
The main USP of this watch is its accuracy.
This particular smartwatch has different sensors and they are calibrated to show you the best accurate tracking results of your body.
This smartwatch is specifically designed for fitness enthusiasts while its looks still make it able to wear even in your office, at parties etc.
Cons
For fitness purposes, this one is a killer but not so much on other fronts.
It is a smartwatch under 15000 but does not have a speaker so you can't make phone calls or listen to music through it.
You won't be able to integrate it with your smartphone to show notifications and other reminders.
Key Features
Garmin is a Switzerland-based brand that makes products that are reliable and premium. This lightweight smartwatch is just 38 grams and comes with a rounded square 1.3" dial with a gold finish all around the touchscreen.
The strap is also wide and fits comfortably on the user's wrist.
With features like
Pulse OX sensor,
stress tracking,
mindful breathing,
hydration tracking,
respiration tracking,
menstrual cycle tracking,
advanced sleep monitoring,
active heart rate monitoring,
pre-loaded workouts,
a built-in sports app and
a dedicated Garmin coach app that gives you tips to improve your physical and mental well-being, this is truly a fitness smartwatch.
It is also lightweight at just 38 grams.
There are 3 models in the Venu range – Garmin Venu, Venu SQ and Venu SQ Music.
Venu has a round dial whereas SQ has got a rounded rectangle dial.
SQ has got all the essential features that are offered on Venu and are introduced as a more affordable version of Venu.
Garmin Venu Sq is the most affordable smartwatch in their entire range.
What's the Price?
This White/Light Gold finish is available for Rs. around 15000-16000. Its Grey/Slate finish and Metallic orchid finish are also at Rs.around 17,000.  
Check out Garmin Venu
Garmin Venu SQ Music
Garmin Venu Series:
3. Amazfit T-Rex Pro (best smartwatch under 15000 in terms of capable GPS)
Pros
This watch not only tells you about your vitals but also tracks them actively and notifies you if they become unsuitable for the users.
It also provides and assists the user in getting back to normal.
The readings are fairly accurate and its toughness allows you to go into the wild without any tension.
With GPS from 4 different satellites, it is perfect for those who wish to get lost in the wilderness.
Cons
It is a good smartwatch under 15000 but it is built for outdoor purposes and may not go with the needs of city-dwelling folks.
Key Features
Amazfit is a brand that tries to do something different in its designs and utility. A good example of those traits is their T-Rex Pro watch which is purposely built for people who have a more rugged lifestyle.
This watch boasts Military-grade toughness.
It has a 1.3" HD AMOLED round touchscreen with an always-on feature. Its strap is also made out of sweat-wicking material which allows it to stay dry and comfortable for long periods.
Its features list includes
Blood Oxygen saturation measurement,
10 ATM waterproof,
100 sports modes,
sleep quality monitoring,
Personal active Intelligence and
a massive 18-day battery life with typical usage.
It has also undergone 15 different military-grade tests and can withstand temp. from -40° C to 70° C, shock resistance, 240h of humidity resistance, 96h of salt spray resistance and Ice and freezing rain resistance.
There are very few changes with this watch feature over the T-Rex. Now you get brushed metal bezels for a more premium look, and straps are also updated.
The only major change is the use of 4 different satellites for location precision and other communication instead of relying on GPS which makes this watch a perfect fit for adventurers (1).
What's the Price?
This Black/Carbon finish is available for around Rs. 13,000. Its Petal/Copper base finish is also available for the same price whereas the Stone/Mist grey one is Rs. around 14,000.
4. Fitbit Versa 2 (best-rated)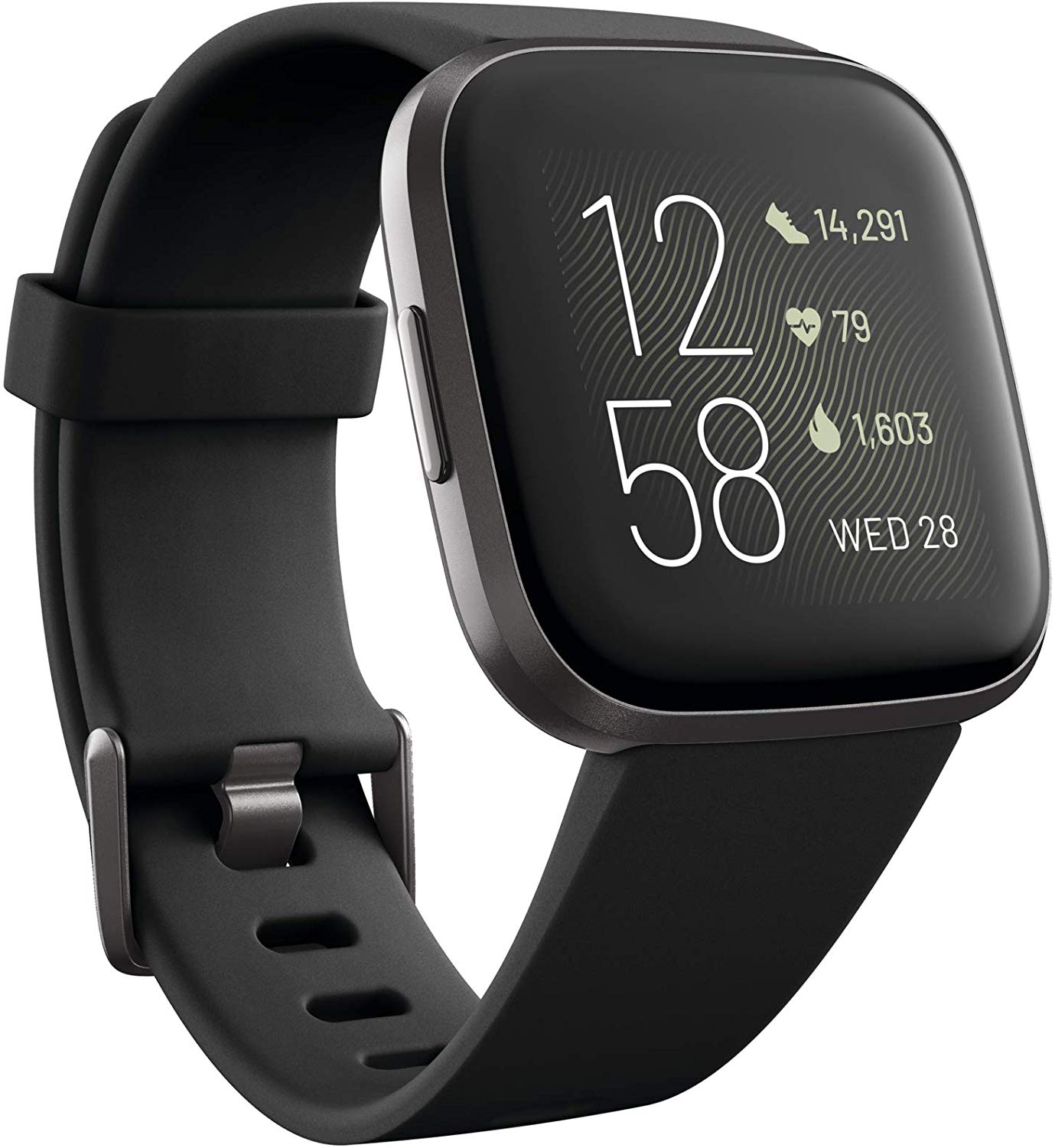 Pros
The sleep tracking system is very nice and easy to use in this watch.
It even tells you about the quality of your sleep and gives tips to improve it.
Another great thing about this smartwatch is just how lightweight it is; at just 4.54 grams you will barely feel it on your wrist.
Cons
It's a great device but its cost is slightly inflated as you can get all these features from other brands at considerably lesser prices.
Also, you cannot answer calls and you can only enable its microphone to answer messages on Android.
Key Features
Fitbit is a well-reputed name in the world of smartwatches and Versa 2 certainly has a quality and premium feel to it.  It is a feature-rich smartwatch with Sleep and Swim tracking, Heart Rate, 2.5 GB of Music storage, and Always-on display.
It is all-day tracking of your steps, calories and distance travelled that keeps you fully notified of your body condition.
Built-in Alexa allows you to stay connected to your notifications and keep getting updated about weather, reminders etc. with just a press of a button to enable voice recognition.
It is lightweight and still supports a 5-day long battery life with medium usage.
This updated version gets a new AMOLED screen of higher resolution instead of LCD on Versa.
Fitbit play is available on all models now, microphone and built-in support for Alexa. Overall, this is a major improvement over the Versa.
Versa 3 has also been introduced (check here) but we still think out of all 3 available models, Versa 2 is the mid-range option that suits the pocket of a great category of people.
What's the Price?
This Black/Carbon finish is available at around Rs. 12,899. Its Petal/Copper base finish is also available for the same price whereas the Stone/Mist grey one is Rs. around 14,000.
Older But Good Smartwatch Models under 15,000
5. Samsung Galaxy Active 2 Watch (Samsung smartwatch under 15000)
| | |
| --- | --- |
| Display | 44 mm model: 1.4 inch display, 40 mm model: 1.2 inch display |
| Battery | 24-60 hours depending upon the usage |
| Waterproof, Swim proof | Yes 5 ATM IP certified, safe for swimming |
| Processor | Dual-core 1.15 GHz Cortex- A53 |
| Memory | 4 GB |
| Sensors | Accelerometer, gyro, heart rate, barometer |
| Operating System | Tizen-based wearable OS 4.0 |
| Compatibility | Android 5.0, iOS 9.0, iPhone 5 or above |
| Connectivity | WiFi, Bluetooth 5.0 |
| Charging | Wireless charging |
Samsung Galaxy Active Watch 2 is now available but it's a minor upgrade on its previous version Samsung Galaxy Watch. It is undoubtedly one of the best Android smartwatches (not the best for iOS users because of the Apple Watch Series 5 and 4) available in India having all the features of its predecessor and adding a few more shining features like more apps and more sensors.
Key Features
It is available in two versions, one is a 40 mm model for smaller wrists and the second one is 44 mm for men and large wrists.
The watch has a rotating bezel (the biggest change) for easier navigation & control.
You can have an always-on display if you don't care to save battery.
It is equipped with heavy sports and running features yet its minimalist design is really impressive.
The battery life is around 2 days but there is a battery-saving setting to increase battery life.
You can take photos on a phone with a Samsung wearables app.
GPS is available with A-GPS, GLONASS, GALILEO, BDS
Automatic workout tracking with 39 workout modes which are very useful for cardio exercises.
New run coaching guided program to let you choose from different programs to improve your performance and speed.
Easier integration with Bluetooth headphones.
Offline Spotify storage
Pros
Digital haptic dial
LTE availability
Extra workout features like 'crunches mode'
Deeper Twitter & YouTube integration
Works with iOS
More customized options for watch faces
Run coaching for runners
Cons
Little expensive
Limited app support
Features, like using YouTube & Twitter and replying to text messages, don't work well with iPhone.
Best for
It's a very good fitness wearable, perfect for Samsung lovers and Android users.
Note: Since the new versions of the Samsung watches (check the premium smartwatches list) have arrived. Samsung Galaxy Active 2 Watch is still available at relatively a lower price with almost similar features except for a few major upgrades. The Watch comes with a unisex design.
6. Huawei Watch GT 2 (best smartwatch under 15000 for outdoor activities)
| | |
| --- | --- |
| Display | 1.64 inch AMOLED screen |
| Battery | up to 10 days |
| Waterproof | yes, up to 50 meters |
| Swim proof | yes |
| Capacity | 4 GB internal |
| Sensors | Accelerometer, gyro, heart rate, ambient light, air pressure |
| OS | Huawei's Lite OS |
| GPS | Yes |
| Compatibility | Android 4.4, iOS 9.0 or higher |
| Connectivity | Bluetooth 5.0, LE |
| Charging Method | Through small magnetic charging cradle |
Key Features
It's available in India at a price of around 15,000.
Its 46 mm sport version exactly looks like Huawei Watch GT and comes in 3 colours on Amazon: matte black, pebble brown and titanium grey.
The watch is giving amazing fitness tracking that includes cycling, aerobics, running, walking, elliptical, rowing, hiking, trail running, and triathlon.
There is a personal intelligent sports coach to guide you.
Huawei Watch GT 2 tracks the data of all general daily activities like walking, sleeping, and climbing.
It also has the TruSleep 2.0 feature that provides you with all-time real sleep data as well as tracking of breathing, heart rate, and pulse data.
One more unique feature is the TruRelax feature to record your heart date and stress levels in a more efficient way.
The watch is waterproof up to 50 meters and it can survive easily underwater for 30 mins.
It has (GPS+Glonass+Galileo) good for running and other outdoor activities.
You can save around 500 songs with 2 GB of RAM & $ GB of storage.
The watch performs best when you use its 'Huawei Health app'.
Pros
Attractive design (3D glass screen, bezel-less design)
Lightweight
Excellent battery life
A lot of improvements from the Huawei GT
Impressive fitness tracking
A lot of sensors for tracking & detection purposes
Cons
Limited apps. You will get third-party apps support but it's best with "The Huawei health app".
Best for
Fitness lovers and general usage
7. Fossil Q Gen 4 Hr Men's Watch (Fossil smartwatch under 15000 for men)
| | |
| --- | --- |
| Display | AMOLED, touchscreen display |
| Battery | 24 hours |
| Waterproof, Swim proof | Yes 30 meters waterproof, swim ready |
| Processor | _ |
| Memory | 4 GB |
| Sensors | Pedometer, accelerometer, heart rate monitor (HRM), barometer, gyroscope, ambient light |
| Operating System | Google Wear OS 2.1 |
| Compatibility | Android 4.4 (excluding Go edition) or above, iOS 9.3 or above |
| Connectivity | Bluetooth, WiFi |
| Charging | Inductive charging magnet |
Key features
45 mm case size, the screen has a larger bezel.
From running to yoga and from walking to cycling, the smartwatch measures heart rate automatically and provides complete data on individual workouts.
Can track your daily activities like sleep, heart rate, steps, distance, and calories.
Various straps materials & case colours are available
There are good watch faces given by fossils. You wouldn't find a need to download third-party watch faces.
Untethered GPS to save you from the hassle of carrying your phone while going for outdoor workouts like running & cycling
Notification alerts of your emails, calls, SMS, reminders, weather forecasts, FB & Twitter notifications
2-year warranty
Pros
Smooth wear os
Elegant premium looks
Upgraded Fitness tech
Brighter clear display
Made out of extremely high-quality material
Cons
Battery life is only 24 hrs but charging time is fast – 1 hr.
Best for
Those Men who want a watch with awesome looks and for tracking general activities to increase their fitness efforts.
8. Fossil Q Gen 4 Hr Women's Watch (Fossil smartwatch under 15000 for women)
| | |
| --- | --- |
| Display | 40 mm Venture HR touchscreen made out of stainless steel |
| Battery | 24 hours |
| Waterproof, Swim proof | Yes 30 meters waterproof, swim ready |
| Processor | Qualcomm® Snapdragon™ Wear 2100 |
| Memory | 4 GB |
| Sensors | Accelerometer, heart rate, Ambient Light, Gyroscope |
| Operating System | Wear OS by Google |
| Compatibility | Android OS 4.4 (EXCLUDING GO EDITION) & later, iOS 9.3 & later |
| Connectivity | Bluetooth, WiFi |
| Charging | Magnetic USB Charger |
Key features
This Fossil smartwatch under 15000 is having a 40 mm round touch screen best fits small wrists or female wrists.
It also has a customizable dial & band (18mm).
Match your watch to your mood or personal style and swap your dial whenever you want. The choices are endless.
Untethered GPS for phone-free route tracking
Having a built-in fitness tracker. You can track steps, distance and calories burned.
Heart rate monitor to measure your beats during workouts.
Built-in microphone allowing a variety of tasks using your voice
You can customize your goals and track what's most important to you, like drinking water or exercising.
It comes with a very important feature called automatic time zone. It means if you enter a different time zone, your watch automatically updates to the respective local time & date
You can control your music by selecting your favourite music streaming apps whether it's Spotify, Soundcloud, Google Play, or Apple Music.
Smartphone notifications
2-year warranty
Pros
Looks very beautiful & elegant
Automatic time zone
Has a decently lighted LED flashlight
Fast integration with devices
Cons
1-day battery
Small screen but is a good fit for a female's wrist
Best for
Females who want a watch with trendy fashionable looks and for tracking general activities to increase their fitness efforts.
Physical Fitness-related articles:
On Mental Fitness:
Other reviews: